My Studio is situated in Southern Milton Keynes
Although the workshop is small, I have all you need to learn to sew! Whether you want to learn on a Domestic or Industrial Machine, there's a choice here of both, or you can bring your own. Everything you'll use will be provided, you won't have to buy any special equipment or materials. If you don't already own a machine, I can help you choose, and advise where to buy. l will share my many years of Garment Manufacturing experience to show you how to create beautiful clothes, with a good fit and a quality finish. Class subjects include:
Sewing
Overlocking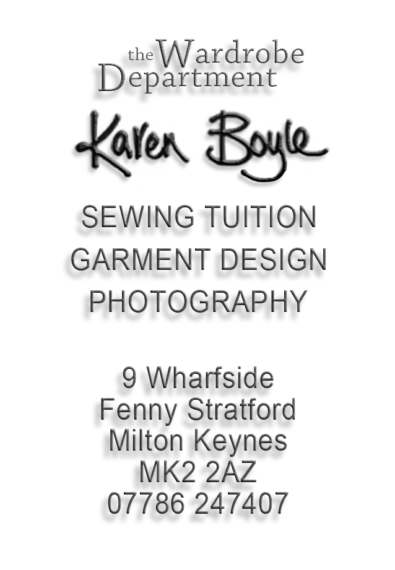 Cover Stitching
Machine Embroidery
Pattern Cutting and Fitting.
Bag Making
Children's Wear
Doll Clothing and Soft Toys
Bridal Wear
DIY Wedding Decor
Home Furnishings
Creating Wearable Art
Photographic Sets and Props
Performance and Dance Costumes
Software Training
I will also arrange Sewing Surgery sessions, for those of you who would like help and advice with your own sewing projects.
Please contact Karen for more information.